New Ford Vehicles for Sale in Nanuet, NY
New Ford Sedan, SUV, Truck, and Commercial Vehicles for Sale near Bergen County
Ford has been a crucial part of the automotive industry for decades. Its history centers around great vehicles like the sporty Ford Mustang and the hot-selling Ford F-150 pickup truck. Recently Ford has ventured into manufacturing attractive models like the Maverick and Bronco Sport. These vehicles, including the Mustang and Ford F-150, have advanced technologies and the latest performance enhancement features, making them ideal for daily commuters, family centered drivers, and adventure seekers. To learn more about the new Ford lineup vehicles, make a short trip to Schultz Ford of Nanuet at your convenience.
New Ford SUVs Near Paramus
Ford crafted a diverse lineup of SUVs, from subcompact models to full-size and adventure-ready SUVs. Merge through urban streets with the highly efficient Ford EcoSport built for the city but designed to escape it when you feel the need. This five-seater is a safe, feature-packed, and flexible model that's fun to drive and easy to live with.
The new Ford Escape is a compact SUV with very comfortable seats, a roomy cabin, and helpful technology. Although it comes standard with a front-wheel drive, it has an available all-wheel drive if you want to navigate off-road trails. The Ford Edge is ideal if you wish to buy a two-row SUV with incredible features at a fair price. Its ride is compliant and comfortable, and the engine offers impressive acceleration power.
The Ford Explorer is a midsize SUV with three rows and athletic looks. Inside, the Explorer's cabin is comfortable and functional, with an array of convenient features to keep all passengers entertained. We also have the Ford Expedition, a three-row SUV that can tow over 9,000 pounds and take on off-road trails easily.
Are you looking for a compact crossover for mixing outdoorsy weekend adventures and urban living? The Ford Bronco Sport stands out with its solid off-road capability and compact size. You can also consider the Ford Bronco, which is larger than the Bronco Sport and has standard four-wheel drive and a powerful base engine.
New Ford Trucks Near Mahwah
With an array of powertrains and body styles, you can outfit the Ford F-150 to play any role, from show pony to workhorse. However, if you need an off-road champion that can tow heavy loads, you can consider the Ford F-150 Raptor. Drivers who crave to take command of a capable midsize truck can consider a new Ford Ranger. With off-road-ready hardware and a towing capacity of up to 7,700 pounds, this truck delivers the performance and capability levels of full-size trucks in a smaller, city-friendly package.
Ford super-duty trucks like the Ford F-250 and Ford F-350 have cutting-edge technology that makes towing easy and smooth. These trucks have robust V8 engines that deliver immense towing, hauling, and impressive acceleration power.
Find a New Ford EV or Hybrid Near Bergen County
Engineered to help handle your urban drives, the Ford Maverick offers 1,500 payload capacities, towing rating of 4,000 pounds, and exceptional fuel economy. The Ford F-150 Lightning shares many features with the Ford F-150 pickup truck, but two electric motors make it a very different species. With this truck, you will enjoy an impressive driving range, a towing capacity of up to 10,000 pounds, and immense acceleration power. The Ford Mustang is an ideal all-electric SUV thanks to its luxury-level interior, charming looks, and tremendous performance.
New Ford Muscle Cars in Nanuet
The Ford Mustang is a muscle car, available as a coupe and a convertible. This legendary pony vehicle has engine options ranging from an efficient turbo-four engine to a snarling V8 powertrain. Despite its impressive performance numbers, this exotic sports car is easy to live with, making it equal parts thrill ride and pony car. With this car, you will have relaxing driving experiences thanks to its comfortable cabin with premium materials and cutting-edge technology.
Explore a Versatile, Business-Ready Inventory of Commercial Vehicles at Schultz Ford of Nanuet
Increasing demands for efficiency call for larger vehicles to be readily equipped with versatile features while including generous cargo space. Fortunately, our eclectic inventory of commercial vehicles at Schultz Ford of Nanuet supersedes the expectations of Paramus business owners looking for a reliable vehicle that can handle the rigor of a quick and efficient transportation experience.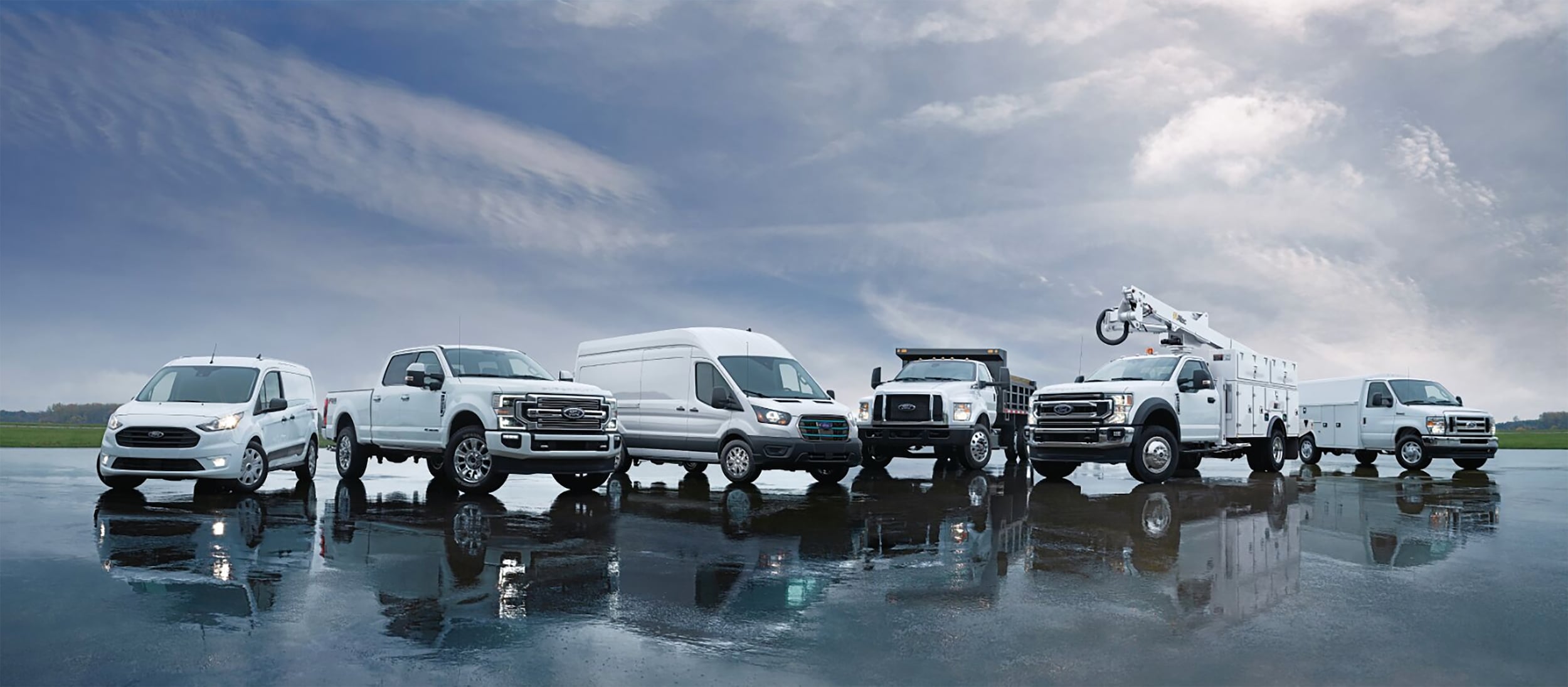 The E-Series Cutaway
The Ford E-Series cutaway is a viral commercial vehicle widely used for various purposes, from cargo delivery to passenger transportation. This vehicle is built on an assertive truck frame and is determined to conquer the rough terrain around Mahwah. Moreover, the vehicle boasts excellent powertrain options, such as a robust 7.3L V8 engine that provides enormous power and torque for traveling with heavy equipment.
Regarding different models, White Plains drivers can choose from three configurations for the vehicle. The first is the E-350 Single-Rear-Wheel Cutaway, providing a gross vehicle weight rating of 10,050 pounds. We recommend exploring the E-350 Dual-Rear-Wheel cutaway for those looking for additional power. This model ups GVWR but doesn't sacrifice power when transporting goods. Lastly, the E-450 Dual-Rear-Wheel cutaway is most efficient when dealing heavier loads. With a maximum of 22,000 pounds of gross combined vehicle weight rating, buyers will find no problem pulling along the heaviest equipment.
Although the E-Series cutaway is known for its commercial vehicle capabilities, it features a luxurious interior with comfortable cabin space and plentiful personalization technologies to ensure a stress-free drive.
The E-Transit Cargo Van
Cargo vans are many business owners' go-to vehicle when considering cargo transportation, storage space, and excellent amenities; however, Ford has designed these vans to be practical and stylish. The exterior boasts an assertive front fascia that complements its sharp details. Several colorway options are available for Bergen County buyers looking to personalize their van, such as Oxford White, Ingot Silver, and Race Red, among many others.
Regarding practicality, the E-Transit cargo van has a maximum payload of 3,880 pounds depending on the length and a maximum cargo space volume of 487.3 cubic feet. These specifications ensure plenty of room for storing large goods, comfortable riding, and securing heavier items.
Safety is also paramount within the van, and Ford has equipped the E-Transit cargo with extensive driver assistance features, including:
A Rearview Camera
Lane-Keeping Assist
Automatic Emergency Braking
360 Degree Camera with Split View
Available Blind Spot Assist 1.0
E-Transit Passenger
For those needing a van capable of transporting large groups of people, the E-Transit Passenger is an outstanding choice. This vehicle accommodates up to 15 people and is excellent for shuttle services, airports, significant business events, and general transportation. Due to its electric powertrain, the Ford E-Transit runs smoothly, and can quickly adapt to various road conditions. Battery range varies depending on model selection; however, buyers can expect to receive 108 to 126 miles when fully charged.
The interior is undoubtedly spacious, featuring comfortable upholstery and numerous personalization and technology features such as enhanced voice recognition, a 12-inch touchscreen, and an advanced SYNC 4 system. Seats can be reconfigured in various ways, allowing for additional comfort and plenty of space for relaxation.
How can we help?
* Indicates a required field